Things to Do in San Francisco
Overview: With trademark hills and the Pacific Ocean a frequent backdrop across its seven square miles, San Francisco serves as a cultural melting pot where hippies and tech workers mingle over tacos, artisanal cocktails, and cold-brew coffee. With weather patterns as diverse as its neighborhoods, the City by the Bay offers international flavor: dim sum in Chinatown, cannoli in North Beach, izakaya bites in Japantown, and a bustling food hall scene in the Ferry Building, to name a few. History and culture thrive in the Castro and Mission District; Union Square—San Francisco's premier shopping destination—showcases both world-renowned boutiques and indie designers; and open-air adventure is never hard to find in Golden Gate Park or along the fog-laced stretches of Ocean Beach. Visitors come for iconic experiences such as cable-car rides, photos of the Golden Gate Bridge, and tours of Alcatraz Island—and stick around for wine tasting trips to Napa and Sonoma wine country, visits to the giant redwoods in Muir Woods, and adventures in Berkeley, Oakland, Sebastopol, and the greater Bay Area. Keep in mind that the weather can be more temperamental than other California cities like Los Angeles, so pack a jacket for when the fog rolls in off the hills, or plan a trip to coincide with San Francisco's Indian Summer, starting in early fall.
Language: English
Currency: $
Time Zone: UTC (-08:00)
Country Code: +1
Best Time to Visit: Summer, Fall
When to Visit: Summer usually includes the biggest concentration of festivals, including Pride and the Outside Lands music festival, but typically cooler temperatures, whereas fall offers warmer sunny weather. Whenever you choose to visit, come prepared with layers, as the fog usually burns off by mid-morning and returns in the early evening, bringing with it up to 20-degree swings in temperature.
Getting Around: Although it's a fairly walkable city, San Francisco is also easily traversed by MUNI's system of buses and light-rail trains, including the iconic cable cars. BART rapid rail connects the city with the greater Bay Area to the east, and CalTrain's commuter rail service runs along the San Francisco Peninsula. Uber and Lyft ride-sharing apps are also popular.
Tipping: For most service-industry businesses (restaurants, bars, cabs), tips are expected, and 10-20% is standard, with 15% generally sufficient. A good rule of thumb is to multiply the sales tax by two, which equals around a 17% tip.
You Might Not know…: Most of the BART light-rail trains connecting San Francisco to the surrounding Bay Area stop running shortly after midnight. If you miss the train, you can opt for Uber or Lyft to get home. If you cross a bridge, expect an additional charge for the toll.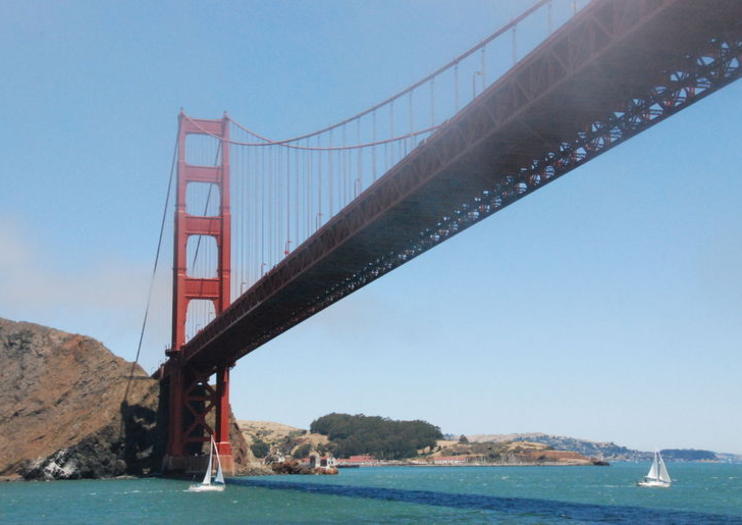 1) Golden Gate Bridge
Cinema buffs believe Alfred Hitchcock had it right: seen from below at Fort Point, the bridge induces a thrilling case of Vertigo. Fog aficionados prefer the lookout at Vista Point in Marin, on the north side of the bridge, to watch gusts rush through the bridge cables. Crissy Field is a key spot to appreciate the whole span, with windsurfers and kite-fliers to add action to your snapshots. Unlike the Bay Bridge, the Golden Gate Bridge provides access to cyclists and pedestrians.
From the Golden Gate Bridge itself, you can see stunning vistas of San Francisco and Marin County, as well as Alcatraz, Angel Island, and oceangoing liners passing through the bridge's tall red towers. Golden Gate Bridge connects the city of San Francisco with the Golden Gate National Recreation Area, Sausalito and the Muir Woods National Monument.
2) Alcatraz
For almost 150 years, Alcatraz has given the innocent chills and the guilty cold sweats. Over the years it's been the nation's first military prison, then a forbidding maximum-security penitentiary, now a National Park. No wonder that first step you take off the ferry and onto 'The Rock' seems to cue ominous music: dunh-dunh-dunnnnh!
The trip to Alcatraz is popular and space is extremely limited. Purchase Alcatraz tickets as far in advance as possible, up to 90 days. The roster of Alcatraz inmates read like an America's Most Wanted list. A-list criminals doing time on Alcatraz included Chicago crime boss Al "Scarface" Capone, dapper kidnapper George "Machine Gun" Kelly, and hot-headed Harlem mafioso and sometime poet "Bumpy" Johnson. Though Alcatraz was considered escape-proof, in 1962 the Anglin brothers and Frank Morris floated away on a makeshift raft and were never seen again. A visit to Alcatraz is more than just seeing the inside of an old prison.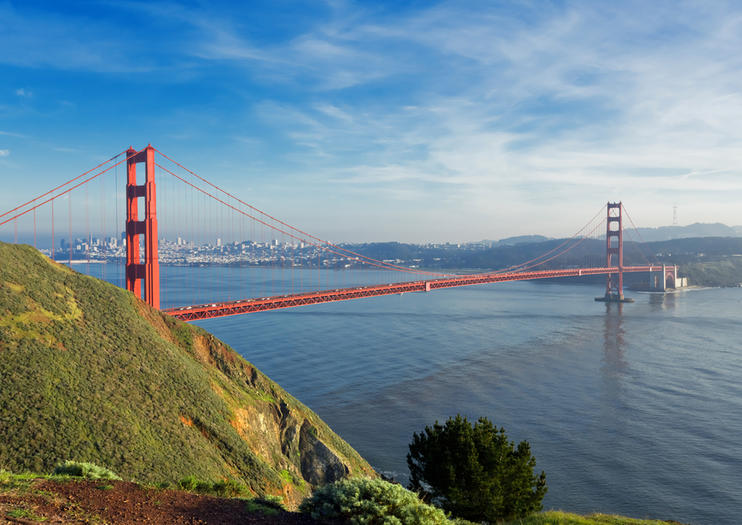 3) San Francisco Bay
Few waterways carry the prestige and iconographic status of the beautiful San Francisco Bay. From the first years of its European discovery the Golden Gate became known as a pivotal access point to the American West.
Trade and military strategy aside, The Bay is California's most important ecological treasure. A natural nursery for crab, halibut, waterfowl, seals and sea lions, as well as endangered species, the San Francisco Bay provides a great ecological treasure to residents and visitors alike. Whale watching, ferrying out to Alcatraz and Marin, or simple sunset tours with the glistening Golden Gate Bridge are favorite pastimes, while residents simply feel assured looking out of their windows and knowing that its calm waters are there.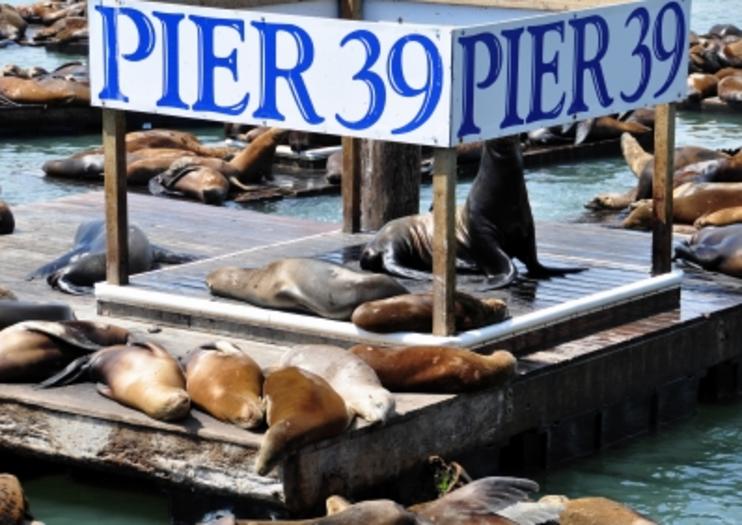 4) Pier 39
One of the most popular attractions in San Francisco, Pier 39 is a fun-filled multilevel waterfront complex, complete with shops, restaurants, lively street performers, a video arcade, and stellar attractions. An added bonus is its setting on San Francisco Bay, where you can take in panoramic bay views, fresh sea air, and watch hundreds of sunbathing sea lions lounging along its neighboring docks. From here you can see Angel Island, Alcatraz, and the Golden Gate Bridge.
Families will have plenty of fun here. At the Aquarium of the Bay, watch sharks circle overhead and manta rays skate by, as conveyor belts guide you through glass tubes. A chariot awaits you on the two-story San Francisco Carousel, then whisks you past the Golden Gate Bridge, Alcatraz, other hand-painted city landmarks. Also - don't forget to watch the sea lions. The slips on the bay can hold as many as 1,300 of the marine mammals, mostly between January and July.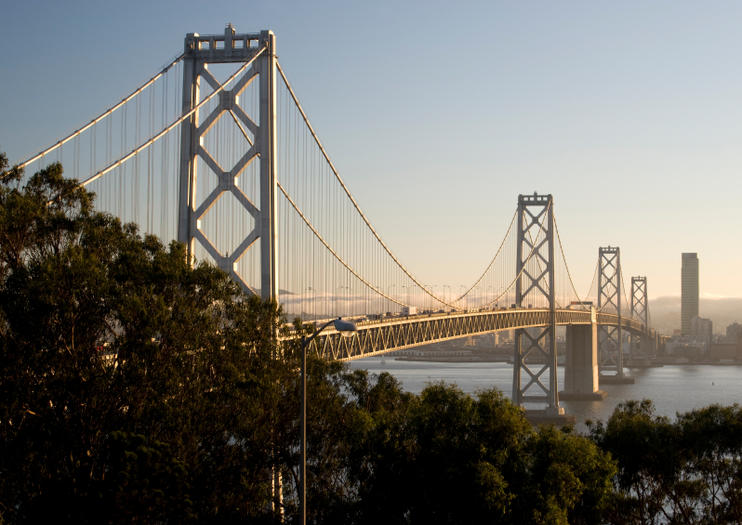 5) Bay Bridge
Though it doesn't often get the attention of its famous sibling, the Golden Gate, the San Francisco Bay Bridge is spectacular in its own right. Once the largest and most expensive bridge of its time, in 75 years the Bay Bridge has proved critics wrong – the dream of connecting San Francisco to Oakland would not be stopped by anything. Logistics, cost, and politics couldn't stop the expansion, and now the Bay Bridge has made history yet again my becoming the world's largest self -anchored suspension bridge. Safely transporting the 280,000 automobiles that transverse its roads every day, the Bay Bridge connects San Francisco to Oakland, with a little stop at Yerba Buena Island along the way.
6) Fisherman's Wharf
Where once Italian fisherman in Genoese feluccas trapped unsuspecting sealife, San Francisco has expertly created one of the most popular tourist attractions in America. Fisherman's Wharf is filled with shops, restaurants, and a pirate's booty of attractions.
Sea lions laze the day away sunbathing and posing for photo ops on Pier 39, where the Aquarium of the Bay, carousel, and carnival-style attractions keep little kids wide-eyed. At Pier 45, the Hyde Street Pier Historic Ships Collection give navel-gazers a chance to check out tall ships, submarines and WWII warships. Bring your quarters to consult the spooky mechanical fortune tellers and save the world from space invaders at Musée Mécanique.
And if it's raining, head to the Wax Museum and wander among the 250-plus life-like celebrities and former presidents. Ripley's Believe It or Not! Museum, with its kaleidoscope tunnel, video displays, and illusions is also a curiously exciting diversion.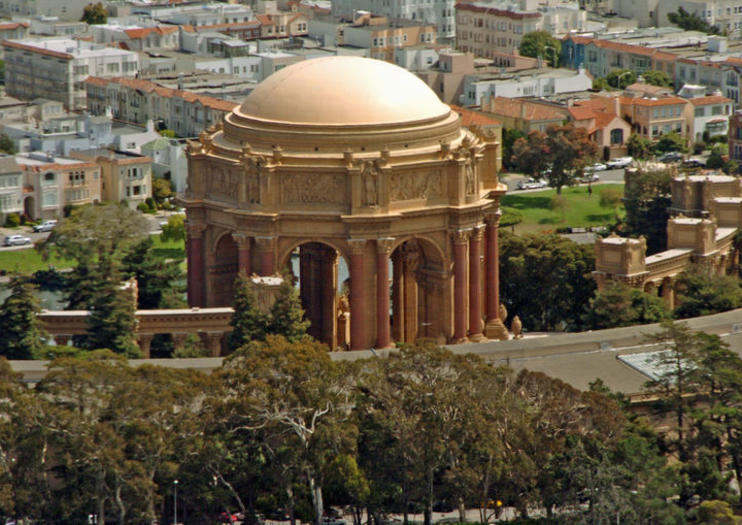 7) Palace of Fine Arts
Like a fossilized party favor, this romantic, Greco-Roman ruin is the memento San Francisco decided to keep from the 1915 Panama-Pacific International Exposition. Indeed, the Palace is a favorite wedding photo location for many couples in the San Francisco Bay area. But many come just to simply gaze up at the rotunda relief and glimpse "Art Under Attack by Materialists, with Idealists Leaping to her Rescue".
The exhibition hall, which originally housed Impressionist paintings during the exposition, was once home to the Exploratorium, a state of the art interactive science museum that moved in Spring 2013 to Pier 15 on the Embarcadero. Now the venue hosts occasional concerts and events but is not generally open to the public. The inside is not the main attraction after all.
The nearby lagoon, fringed with Australian eucalyptus trees, was intended to echo those found in classical settings in Europe, where water serves as a mirror to reflect the grand buildings.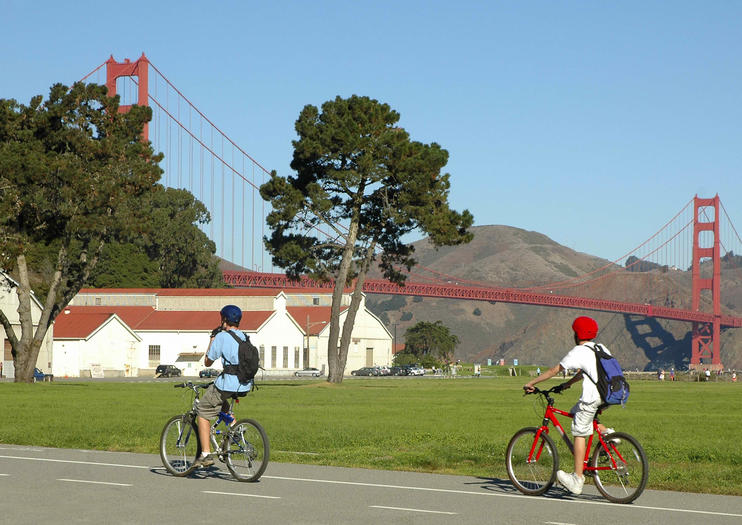 8) Presidio
Once a military base, The Presidio is now a huge public park on the tip of the San Francisco Peninsula. The Spanish established a military fortress on the site in 1776, and it was later turned over to Mexico, and then to the United States in 1848. The original name was the Royal Fortress of Saint Francis, fortress being a translation of "presidio," and the area remained an active base for military operation until 1995. Since 1996, The Presidio has been a park. It's part of the Golden Gate National Recreational Area, but is operated by a private trust.
Among the many outdoor recreational opportunities within The Presidio are hiking, mountain biking, and golfing. The waters just off the park's beaches are great places to go kite surfing or sailing, not to mention fishing. There's also one camping facility inside the park that's open from April-October, as well as one lodge in a former US Army residence hall.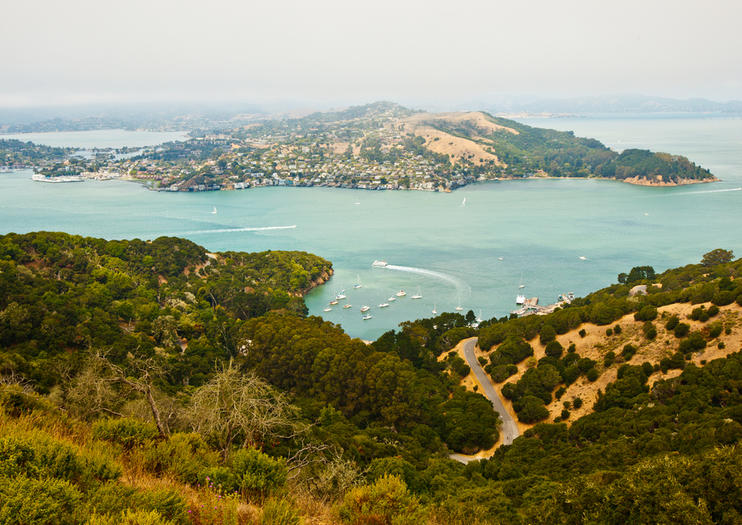 9) Angel Island State Park
Proving that getting away from the city doesn't have to be an ordeal, Angel Island, the largest island in the San Francisco Bay, is a quick ferry ride away and seemingly miles away from the ordinary. Small but beautiful, Angel Island has some of the best views of the surrounding San Francisco Bay area. Climb to the top of Mt. Livermore to snap some pictures of spectacular panoramic views of the entire Bay, or head down to the paved walkway to see some of Angel Island's beautiful coves. All five Bay Area bridges can be seen from the island point, including the imposing and illustrious Golden Gate.
Visitors to this small island enjoy miles of superb hiking trails, a cove café and oyster bar, and many forms of transportation fun (segway, tram, and electric scooter). Here you can explore this natural treasure in leisure and at your own pace.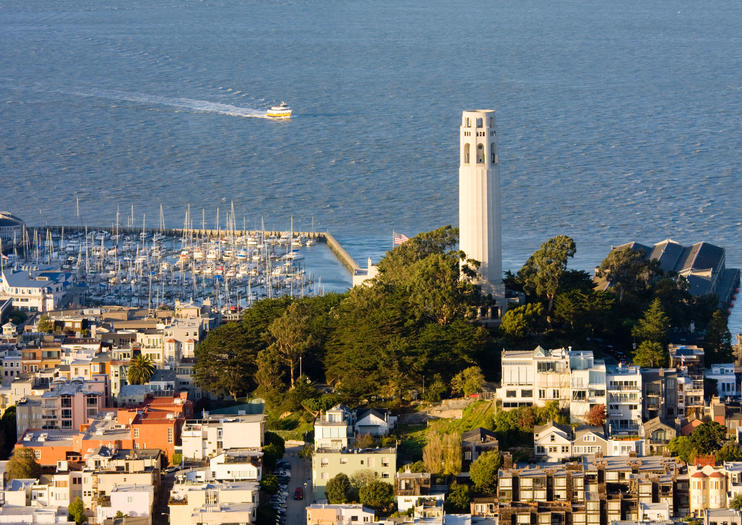 10) Coit Tower
Perched on the top of Telegraph Hill in San Francisco's Pioneer Park, Coit Tower is one of the best panoramic views of the city. From the top of the art deco tower, you can spot the colorful flocks of parrots, which paint the treetops red and blue; further out, you can see the Golden Gate Bridge, Alcatraz, Pier 39, Angel Island, and Lombard Street.
Before heading to the top, enter the lobby to admire the 1930s murals inside the tower's ground floor. The 26 murals tell the story of California history, with frescoes depicting the rise of the state's industry. Indeed, some of these left-leaning murals, many of which were painted by artists who studied under Diego Rivera, were considered controversial when the tower first opened.
More things to do!